Anne-Lise Berntsen is one of Norway's all-time best known sopranos. She began performing in 1978 and had her opera debut in 1985. She has since toured most of the world and recorded 11 albums. Her film debut was in Derailment (1993). In 1998 she played the lead role in Vargen kommer, and a year later in The Prompter. For further details on her impressive curriculum vitae, see Anne-Lise Berntsen's website at
http://nettforlaget.net/goto/annelise/norsk/index.html [RSH]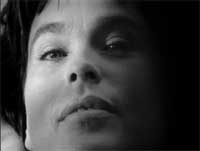 How did a famous soprano like you end up in a film like Derailment, a film without dialog? Was it your first appearance in film?
Well that was quite simple, actually. I knew Unni Straume from before. We were close friends. She thought of me as the face for that film, and then she told herself: "No. I can't do that. I simply know Anne-Lise too well." And then she auditioned quite a number of other actors and at the very, very end, she auditioned me as well. And she decided that I had the best face for the woman in the film, and that Tom and I made a good couple. That was the way it actually came about.
Later on you played the lead role in The Prompter (1999). Did that have anything to do with the part you had played in Derailment?
I don't think so. Maybe that was more because I had a reputation in Norway at that time. My face was seen in magazines and in the papers, on TV and so on. That was why Hilda Heier contacted me. I don't think it had any connection with Derailment.
But you have a great face on film.
Well thank you [laughter]. That was a long time ago.
How did you prepare yourself for playing your role, and how was your collaboration with Unni Straume?
That was a really special thing, because I hadn't acted in front of any cameras other than TV cameras [laughter]. So Unni said: " Just trust me, just relax and do exactly what I say. And don't ever think you have to act." Because I am used to stage acting which is quite different [laughter]. So when it came to the shoot, she of course prepared everything technically first, which took a lot of time, and then she simply whispered something to me. She simply whispered the thoughts in my head, and I just concentrated. That's all there was to it. I have never been directed either before or afterward in such a very calm way. It was almost as though she was whispering thoughts in my head without making a sound. It was a nice experience.
Could you briefly describe Derailment as you see it?
This is a difficult question because I haven't seen this film in its final formů It was a sensual story, told in a simple, elegant and lyrical way.
What do you remember best from the shooting of Derailment? Is there a particular situation or scene that you would like to mention?
As a matter of fact yes. The scene in bed where Tom and I never were lying at the same time, and the interplay with the cameraman. It was such a moment of utmost beauty as Unni stood behind Harald's back, [1] whispering almost without a sound. Everything depended on two things: Harald's virtuosity and my total honesty and relaxation. And it was so fantastic in the room during the entire scene, which came out just as it was supposed to. So I remember that as an artistic moment of intense beauty. Because the camera really was the "person" I most wanted to see and looking into the camera's "eye" was a special experience.