THE CHINESE WALL
(POST-PRODUCTION SCRIPT)
SCREENPLAY BY ROSAN DIEHO

1. INT.- CHINESE RESTAURANT THE CHINESE WALL.- DAY.
The restaurant is still empty, it is raining outside. A young Chinese woman, MIN-QUAN, walks towards the window, she's looking out.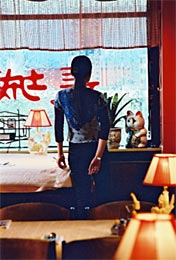 Her mother, MIN-FA is observing her daughter from behind the bar, while slowly polishing the cutlery.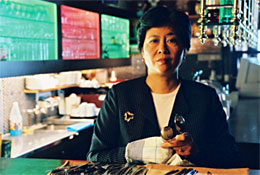 MIN-FA (V.O.)
(CHINESE)
Dutch rain smells so different from Chinese rain. I'm glad Min Quan is here. She can't stand the rain. She doesn't know the scent of warm Chinese rain. Difficult to explain.
TITLE: THE CHINESE WALL
2. INT.- RESTAURANT.- DAY.
The restaurant is quite busy. At one of the tables a lady, AAGT, early sixties, has just sat down. Min-Quan comes to her table and hands her the menu.
MIN-QUAN
Here you go.
Aagt makes a gesture suggesting she doesn't need to see it. Min-Quan understands.
MIN-QUAN
Tomato soup with chicken?
AAGT
Yes please, extra chicken.
Aagt looks for her cigarettes and lights one. She makes herself comfortable while checking out who are the other guests tonight.
AAGT(V.O.)
Office outing. Family. Couple.
She looks at the elderly couple. The man is finishing a call on his mobile. His wife is clearly annoyed by that. With an identical gesture they place the napkins on their laps.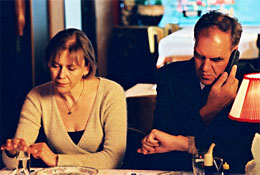 AAGT (V.O.)
They look alike. Funny you see it a lot, husband and wife looking alike. You look for a mirror image. Then one day you've had enough of both faces. The bog silence. She hopes the oyster sauce will bring back some life, not a chance. Next year he'll have another and she won't let go. He reminds me of someone, actually.
Min-Quan interrupts her thoughts, by placing a bowl of soup in front of her.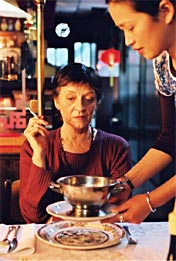 MIN-QUAN
Here you go, your soup.
Extra chicken.
AAGT
Thanks.
The man of the couple signals Min-Quan he would like another beer. She takes his glass, Aagt is observing her every move.
AAGT (V.O.)
Funny girl. Looks somewhat gloomy today. Must be the weather.
Suddenly resolute Aagt kills her cigarette and starts eating her soup.
3. INT.- RESTAURANT.- CONTINUES.
Some sudden noise in a corner of the restaurant draws her attention. Aagt, with a curious interest, observes the office-outing.
AAGT (V.O.)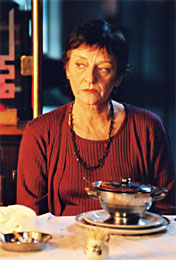 All young. Probably computers. He's in charge. They look at him when they order. They're not enjoying it. Except for her, she falls for him. He not for her. He's made sure they don't sit next to each other. The other one, much more clever. Soon he'll be in charge. She's betting on the wrong horse. Well, what do you know at that age? Seventeen, head over heels. Even if Wim had moved to Timbuktu, I would have followed. Why didn't my parents burst the bubble? Well, I also could have left him. Then what? A child. No money, that's more trouble than a bad marriage.
She glances at the family table. The son is clearly not enjoying his meal.
AAGT (V.O.)
Cranky teen.
Heartburn. Waste of good food.
Aagt puts her hand on her stomach and pushes the soup bowl away from her.
AAGT (V.O.)
I should have done it, perhaps, started all over again.
4. INT.- RESTAURANT.- CONTINUES.
Min-Quan arrives at the table. She puts a rechaud on the table and shows Aagt the menu.
MIN-QUAN
Everything all right?
AAGT
A little more salty than normal.
MIN-QUAN
Too salt?
AAGT
No not too.
The man of the couple draws the attention of Aagt. He raises an empty beer glass and makes a funny gesture meaning he wants a refill. Min-Quan notices and walks to him.
AAGT (V.O.)
That's it! He's just like Fred. Exactly Fred. 'Toupet Fred'. We had such good laughs. He was so different from Wim. The stories he told about his wife…
Min-Quan lights the rechaud.
AAGT (M.I.)
Even proud of your demented wife for urinating in flowerboxes. That's true love. You only give this once.
I shouldn't have been so happy when she died. Celebrating with a bottle of champagne. What do I order?
Aagt looks up from the menu again.
AAGT
I'll have the Ku lu kai.
MIN-QUAN
Not on a diet today?
AAGT
No not today.
She closes the menu decisively and returns it. Her attention is drawn by the family. The boy is whispering something to his mother while looking at Aagt.
5. INT.- RESTAURANT.- CONTINUES.
AAGT (V.O.)
At that age it's still OK. Robert was actually a fine kid. Till he brought home that bitch.
At first these girls try their best. As soon as they are married they can't wait to see you six feet underground.
Not a Christmas card, nothing even on my birthday. Well, what's the difference, not anymore.
I should have had more children. Or Robert should have been a girl. Then I'd have a son-in-law, they are better.
At his father's funeral he wanted to shake hands. I'm not just like the rest. No! A kiss or nothing.
MIN-QUAN
The Kulukai
In passing by Min-Quan places a dish on Aagt's table.
AAGT (V.O.)
Strange, looked forward to this the whole day and now I don't feel like it anymore. I should stop worrying. Rotten day. This weather, no phone calls. I didn't even see the neighbours.
Aagt looks at the gloomy looking couple in front of her.
AAGT (V.O)
And these people don't make me happy either. Is she crying, or does it just look like it? Just today. Sometimes you're better off alone.
6. INT.- RESTAURANT.- CONTINUES.
A little uproar and some laughter from the corner of the office outing. They are all standing and changing places.
AAGT (V.O.)
Look, they're changing places. Now she does sit next to him.
She made it after all.
7. INT.- RESTAURANT.- CONTINUES.
AAGT (V.O.)
Do I have my keys on me?
Aagt grabs her bag and start rumbling through it. She finds her keys laughs about herself.
AAGT(V.O.)
I haven't grown senile yet. What did Fred say again? Dementia is not so bad, you don't care about anything anymore..
Her attention is drawn by the couple. The man gently pats his wife on her arm.
AAGT(V.O.)
He's comforting her. The oyster sauce works. Maybe if I had comforted Fred.
The man sees Min-Quan approach and raises his glass to show her he could use another beer.
AAGT (V.O.)
That's not his first beer. 'But at the end decayed love is more destructive than alcohol.'
8. INT.- RESTAURANT.- CONTINUES.
Aagt looks at her plate, she is full and pushes it away. She takes her napkin off her lap and starts folding it slowly.
AAGT (V.O.)
Hardly ate anything. Gonna take a desert anyway. Today have to have an ice cream. The 'Dame Blanche'. Probably the chocolate sauce isn't real.
Don't want it from a bottle. 'Peach Melba'.
Peaches from the can are nice and smooth.
Min-Fa appears at her table.
MIN-FA
Was nice?
AAGT
I'll take a desert as well.
MIN-FA
Desert? Ku lu kai, desert. Is not too much?
AAGT
It's my birthday today.
MIN-FA
Your birthtoday?! Gratulations, madam! Gratulations!
The whole restaurant looks up at Aagt now. Min-Fa calls her daughter who is just serving the family some ice-cream.
MIN-FA (IN CHINESE)
It's her birthday.
MIN-QUAN
Oh! Congratulations!
The two women discuss further in Chinese while looking at Aagt.
AAGT (V.O.)
Why did I have to say that? Unbelievable.
Aagt is clearly embarrassed by the sudden attention.
AAGT (M.I.)
Damn, that's what happens when you have no one to talk to. You turn into an uncontrollable chatterbox. Everyone's talking about me. Normally eating alone is already against all social conventions. Let alone on your birthday. Lonely Birthday Eaters Anonymous. One day it'll exist.
At all the different tables people are looking at Aagt. It's clear they are all talking about her. The office outing suddenly gets up.
AAGT (V.O.)
They're not gonna embrace me like a lost nanna, I hope?
Hesitating at first, but more and more convinced, the whole restaurant starts singing her 'Happy birthday'.
AAGT (V.O.)
Been a long time since someone has sung for me. Toupet Fred on the piano, couldn't play a single note, practiced especially for me.
9. INT.- RESTAURANT.- CONTINUES.
The shutter to the kitchen opens and out comes a big white cake with fire crackers on top. Min-Fa brings it in with triumph on her face and under applause of the guests.
MIN-FA
Many happy birthday of our restaurant!
Aagt looks a bit overwhelmed at the huge cake.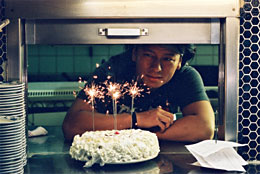 AAGT
I can't eat it all by myself. Would you like some?
The office outing mumbles in approval.
AAGT (CONT'D)
And you?
The man of the couple looks somewhat hesitating at his wife.
JOS
I don't know if my sister…?
She interrupts him.
MIRJAM
I'd love to.
AAGT (V.O.)
That explains …not so strange they look alike
Aagt bends over to cut the cake.
MIN-FA
I'll put tables together. Much more nice and cozy.
Aagt watches Min-Fa go to the family table and sees how she pulls the table towards hers.
AAGT (V.O.)
They must be simply father, mother and son?
When the table is moved it appears the boy is sitting in a wheelchair.
10. INT.- RESTAURANT.- DAY.
All the guests are gathered around the same tables eating the cake. Min-Fa is walking around enthusiastically taking pictures. The 'boss' of the office explains to Aagt that they where also here for a celebration.
DIEDERIK
We're celebrating the anniversary of our ice-skating club.
AAGT
Ice skating club?
Min-Quan is watching the party from behind the bar. The backdoor opens. A young man enters the restaurant. He walks towards the bar. Min-Quan sees him coming and gives him a menu.
MIN-QUAN
Take away?
The young man nods and sits down at the bar. He watches the colorful crowd around the big table.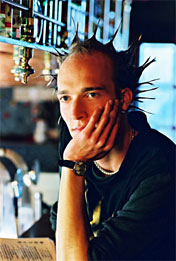 MARTIN (V.O.)
One big happy family.
Nanna's birthday. All together to the Chinese. Wait until she dies. The whole family will break apart over a simple silver coffee-spoon.
THE END